A lot of materials are used in house decoration, and some places use fiberglass ceilings. This material is more popular, so it is best to look at some of its characteristics or related Knowledge, then what is the fiberglass ceiling? What are the characteristics of the fiberglass ceiling? Next, I will introduce it to the supplier of Thermal Isolation Glass Wool.
Fiberglass ceilings are generally used for soft-covering the base layer, and then covered with cloth, leather, etc., which can be made into beautiful wall and ceiling decoration. It has a wide range of applications and has the advantages of sound absorption, sound insulation, heat insulation, environmental protection, and flame retardant. Good insulation properties have made it suitable for radar enclosures. At the same time, it is also a good anti-corrosion material, and has been widely used in the chemical industry.
The fiberglass ceiling has the advantage of strong plasticity. We can flexibly design a variety of products with different structures according to needs in order to meet different requirements for use and make products have better performance. By selecting suitable materials to meet the performance of the product, it is possible to design excellent products that are corrosion-resistant, high-temperature resistant, have high strength in a certain direction, and have good dielectric properties.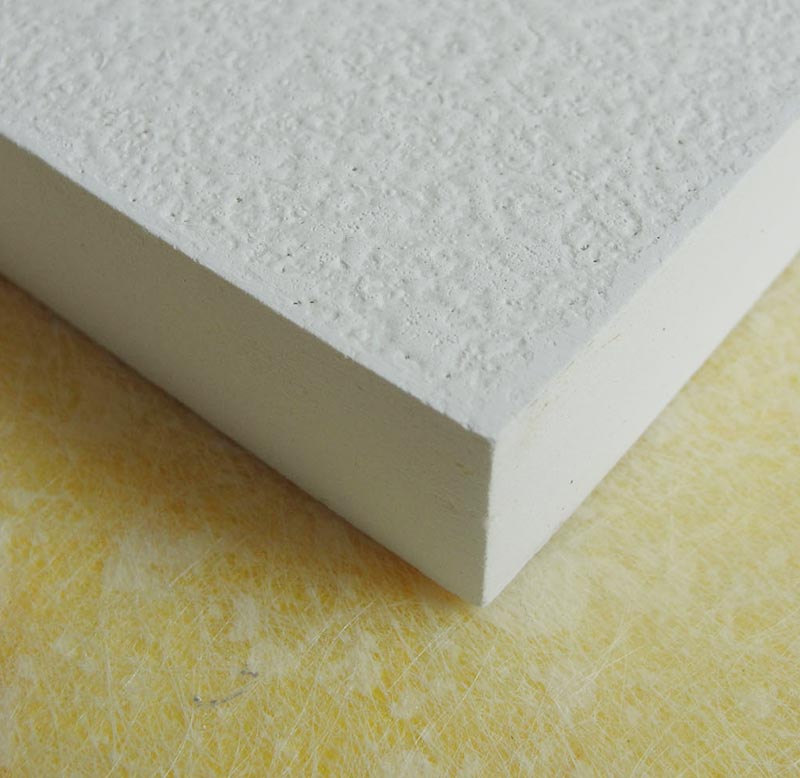 Fiber Glass Ceilig Board
Fiber Glass Ceilig Board Features:
1.Glass fiber yarn is an inorganic non-metallic material with excellent performance. There are many types. The advantages of glass fiber yarn are good insulation, strong heat resistance, good corrosion resistance, high mechanical strength, but the disadvantages are brittleness and wear resistance. Poor performance.Glass fiber yarn is made from glass balls or waste glass through high temperature melting, drawing, winding, weaving and other processes.The diameter of the monofilament is several micrometers to twenty meters. The bundle fiber strands are composed of hundreds or even thousands of monofilaments.
2.Glass fiber yarn is mainly used as electrical insulation material, industrial filter material, anti-corrosion, moisture-proof, heat insulation, sound insulation, shock absorbing material, and can also be used as a reinforcing material.The use of glass fiber yarn is far more extensive than other types of fiber. Manufacture of reinforced plastic, glass fiber yarn or reinforced rubber, reinforced gypsum and reinforced cement and other products. Glass fiber yarn is coated with glass fiber with organic materials to increase its flexibility. It is used to make packaging cloths, window screens, coverings, protective clothing and insulation. Electric and sound insulation materials.
There are many places for decoration materials, but there are many types of materials, and glass materials are more common now. So what are the fiberglass ceilings and what are their characteristics? We all know through the introduction of the Mineral Fiber Ceiling Tile supplier above. Hope to help everyone.